Do you have concerns about the proposed new citizenship test?
Here's a way to share them with USCIS
Many of you may have been learning about plans to redesign the citizenship test from this blog, from my presentations, or from some recent USCIS public engagements about the project. Several people have asked me how they can share their concerns about the test redesign directly with USCIS. While the test redesign team has not explicity requested input from stakeholders (such as citizenship educators) there's no reason we can't share it anyway. And since it appears the redesign project is well underway, now would be the time to do it--while there still may be time to turn things around.
This post is to let you know how you can send in your concerns in a way that ensures that they will be seen by decision-makers who can act on them. Here's what you would need to do:
Send an email to natzredesign22@uscis.dhs.gov and be sure to do two things:
address it to both Eva A, Millona, Chief USCIS Office of Citizenship, Partnership, and Engagement and also Ur Jaddou, Director of USCIS
CC your message to Steve McHale (the Chief of the Office of Citizenship) at stephen.t.mchale@uscis.dhs.gov
Your letter should address your particular concerns, from your point of view. If you want to see the letter I sent, just for inspriration, I've copied it below: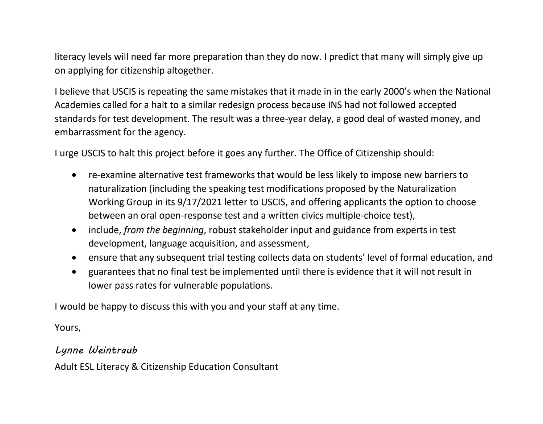 Posted: to Citizenship News on Sun, Jun 4, 2023
Updated: Sun, Jun 4, 2023